Police who are on the look out for the couple Vicky white and her prisoner lover Casey white whom she helped escaped last 10 days ago from correctional facility where he was severing life sentence for murder , well police received a tip-off that the couple were staying at a hotel almost 300 miles from the scene of their jailbreak 10 days ago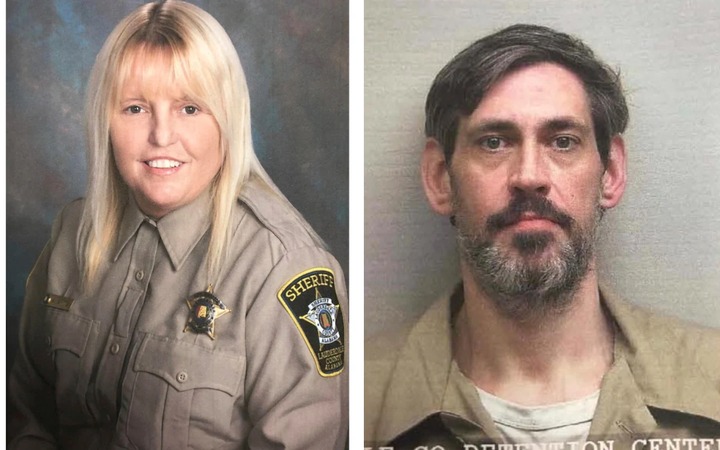 A week long manhunt has now come to an ended in tragedy on Monday as the female prison officer Vicky white who was arrested with an escaped murder suspect died after shooting herself as police was about to capture them
The 17 years correctional officer Vicky White, 56, and her suspected lover inmate Casey White, 38,ironically matching last name but were not related, were arrested in Evansville, Indiana after crashing their car into a ditch during a police chase.
The correctional prison officer was believed to be romantically involved with the fugitive prisoner and shot herself following the chase, said local sheriff Dave Wedding.
According to police report that Casey White suffered only minor injuries and surrendered to officers.
"We got a dangerous man off the street today. He is never going to see the light of day again," said Rick Singleton, the Alabama sheriff leading the case.
It brings to a close a 10-day manhunt that spanned multiple states and saw hundreds of tips flood in from all corners of the country, including one that ultimately led to the pair's arrest.
Fugitive prison guard Vicky White has died at hospital from self-inflicted gunshot wounds hours after being captured by law enforcement officers with escaped Alabama inmate Casey White, officials have confirmed.
Ms White was taken to hospital after the nationwide manhunt for the pair came to a dramatic end with a car crash near Evansville, Indiana, on Monday afternoon.
Earlier, Vanderburgh County Sheriff Dave Wedding told reporters at the scene of the arrest that Ms White's injuries were "very serious" and described her as being in "pretty serious shape".
The apprehension came after a Cadillac car Ms White was driving was rammed by Marshals to end the pursuit.
Hamrick's Towing & Recovery hauls the Cadillac sedan that fugitives Casey White and Vicky White, no relation, were driving when law enforcement officials forced them into a ditch at Burch Drive in Evansville, Ind., after a short chase Monday, 9 May 2022
"The Marshals task force intercepted them, actually collided with them to try to end the pursuit."
And he added: "Two bad people are off the streets."
"It's hard to believe they were here that many days. They're criminals, sometimes they do things that are inexplicable, but I'm glad they did," he said.
The sheriff added that Casey White's massive stature helped in his capture. "In this case, one of the suspects being 6ft 9, that's good for us," he said.
"We got a dangerous man off the street today," Lauderdale County Sheriff Rick Singleton told AL.com following the Monday afternoon capture.
No law enforcement officers fired their weapons during the capture of the inmate and the prison guard, according to US Marshals Service.
Sheriff Singleton said that following the chase Casey White, 38, had surrendered peacefully to law enforcement.
"This has ended a very long and stressful and challenging week and a half," added the sheriff.
"It ended the way we knew it would – with them in custody. He is never going to see the light of day again and that's a good thing, not just for our community but that's a good thing for this country."
Their capture came after investigators received a tip on the couple's location late on Sunday night, and tracked them to a hotel in the state, from which they fled. The sheriff said they do not know why the couple ended up in Indiana.
Witness Cory Bradley told CNN he was driving on Highway 41 in Evansville, Indiana, when more than a dozen police cars flew past him.
"It scared the life out of me when they came flying by," Mr Bradley told the news network.